2011-12-20 13:01:33
PURPLE STATE OF MIND: A Farewell To Arms
Filed under: Featured
Posted by: John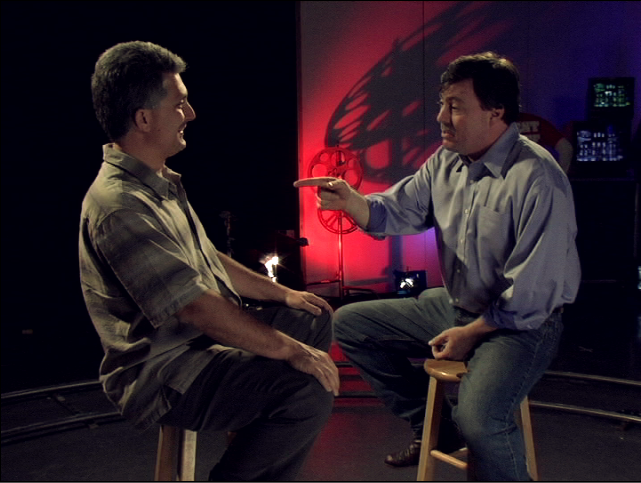 by JOHN MARKS
States are funny things. One minute, they're real, the next a memory. Purple State Of Mind barely registered as a thought in a few thousand minds, never found its way onto a map and had no claim whatsoever to legitimacy. Yet somehow, for four remarkable years, from October 2007 to December 2011, it came to have a life of its own.
Today, in at least one important respect, that life comes to an end, and I'm here to announce its passing. Over on the other side of the Purple wall, my friend and colleague Craig Detweiler will write his own eulogy, and his readers should look there in coming days.
It's hard to know how to sum up such an ephemeral and quixotic project. For those who don't know, the effort that came to be embodied by this web site began in November 2004, when I sold a book proposal for a memoir and work of journalism on evangelical Christianity to Harper Collins. I started my research by calling Craig, then teaching mass communications at the Bible Institute of Los Angeles, otherwise known as Biola, and he proposed that we put our conversation on film.
The book proposal became Reasons To Believe: One Man's Journey Among The Evangelicals, published by Ecco/Harper in 2008, and named one of the Best Books of that year by Publishers Weekly and Kirkus. The conversation became a documentary called Purple State Of Mind, which went on to win awards at film festivals in Tallahassee, Florida and Breckenridge, Colorado.
Craig followed up with his own book about the ideas in the movie, A Purple State Of Mind: Finding Middle Ground In A Divided Culture, and in the winter of 2008, as the presidential primary campaign took off, we hit the road in a ramshackle, do-it-yourself publicity stunt known as the Purple State Roadshow that continued sporadically for the next two years.
This website, which was originally intended to serve that effort, began to have a life of its own, and survived long after the book, the movie and the tour became afterthoughts in our lives and in the culture. In a very real sense, purplestateofmind.com represents the essence of all of these efforts, which started as a literary and cinematic project and morphed into civil society activism before subsiding gently into an ongoing, on-line conversation about movies, books, television, politics, faith, war, love, hate, life and death.
We tried to pitch the thing as news, but it never was. News requires time, money and staff. We never had any of those, but we tried anyway, and ended up with a few cool interviews and oceans of opinion. We hoped for bigger things, in other words, and remained small.
In the end, that says it all. Lacking in the appropriate humility, perhaps, we thought we might bring a tone of moderation, conviviality and openness to a dialogue with someone whose views of the world we did not share and by extension to the national discourse. It's an open question whether we succeeded at the former. We failed with epic grandeur at the latter. Rhetoric that was mean-spirited and intolerant seven years ago has become embittered, ferocious and increasingly violent today.
That's not why we're laying down our pens, though. We're stopping because we've both said just about everything we have to say on the subject, and much as we may enjoy the sound of our own voices, there is a time and place for silence, and now is that time. Also, if I'm any judge, we're both exhausted by the effort.
Thanks go out from both of us to everyone who ever came to a screening, wrote a comment, bought a book or movie, asked a question, hosted a party or sent a check. I'm sure I speak for Craig when I say that we owe a special debt of gratitude to John and Ed Priddy, who supported our efforts through thick and thin–inexplicably, one might argue–and never failed to see the value in a heated bloviation.
The same goes for the amazing Liz Joyner, whose Village Square is the real-world vision of where the Purple idea can go. Anyone who wants to get a distant glimpse of a better American future should check out her organization right away.
Rather than say good-bye once and for all, rest in peace and so on, I thought it made more sense to go out with a trip down memory lane, structured as a sort of ABC's of an evanescent literary, cinematic and cultural movement of highly limited value and scope.
One quick glance below, and an undeniable fact emerges. Purple had a voice. It made a wave. However briefly, it fought the tide of the times.
Enjoy.
ABILENE–"It's a strange world, Sandy." These immortal lines from the David Lynch film Blue Velvet have been ringing in my ears ever since we started to talk to the students and faculty at Abilene Christian University; not because the students and faculty are strange, but because it's strange to find myself praising David Lynch, reading passages from the Chilean writer Roberto Bolano and uttering the words "prostitute's vagina" in front of an audience of receptive Christians.How did we get here?
BILLY GRAHAM–What does it mean when the non-Christian author of a vampire novel containing graphic gay sex, literal bucket loads of gore and a bloodsucker who has no fear of the cross is allowed to address a gathering of pastors, evangelists, academicians and theologians in a bastion of the evangelical world on the subject of the imagination? Is this a sure sign of the Rapture or is something more earthly–and less exclusive—going on?
CONFLICTED–The decision to make a list of favorite movies, books or music involves a stunning act of confidence, though the act is hardly appreciated as a feat of bravado. In fact, list-making has become so common that it's hard to come across words in late December that don't fall in some kind of rank order. For my part, I can't muster much confidence this year. Everything about the selections on offer and my own response to them feels asymmetrical, thwarted, ambivalent, torn. Instead of a favorites list, then, in the spirit of my own personal conflicts, I offered those moments in the general culture that most reflected my own split sense of allegiance and taste. I doubt that it will send anyone to the movie theaters or I Tunes, but it my make other lost souls feel better about their predicament.
DETWEILER–I should have seen it coming. The signs were there. He was listening to Green Day again. He went to see Bill Maher's Religulous, which may have broken his fragile mind. He always liked Cold Play, a sure sign. Yes, it was all too obvious, and yet I never imagined that it would manifest itself in this particular delusion. Craig Detweiler now sees himself as Barack Obama. He is playing Obama in a mad, mad movie in his own mind. If Barack is elected president, we can expect Herr Detweiler to become that saddest of public figures: the impersonator of famous people.
ERIN–For the last week or so, a few of us of have been talking about the theological and/or philosophical ramifications of a particularly brutal triple homicide in the east Texas town of Alba. For a rundown of everything that's come before, have a look at the bottom of this post. Or if you'd prefer, read Nora's moving and thoughtful remarks–which give some sense of the overall framework–and then check out the rest.
FRAULIEN–Doug is gay and an ardent defender of the right of gays to marry. Last year, he himself got married in California, and so when he defends a gay right to marry, he's very much defending his own life. Fraulien is straight and religious. She is a Christian who has been an equally determined advocate on the other side of the argument about marriage. She is defending deeply held beliefs and–if I'm not putting words into her mouth—a way of life.
GROSSMAN, VASILY–How times change. Impoverished, depressed, isolated, destroyed by the same apparatus that had nurtured him, Vasily Grossman couldn't have foreseen that, forty or so years after his death, the USSR would be gone beyond recall, and Timur Bekmambetov, the Russian-Kazakh director of a popular Russian fantasy-horror epic, not a dissident, mind you, but a well-paid, much-loved artist in his country, would direct an Amazon named Angelina Jolie in an American action flick that would be violent and sexual beyond the wildest fantasies of the Soviet censors. Even if he could have imagined such a thing, Grossman could hardly have guessed that the self-same Russian-directed movie would earn $50 million in the United States in its opening weekend.
HOUSTON–It was a first. After our screening of Purple State of Mind at the glorious old River Oaks movie theatre in Houston, Texas, as forty or so audience members were filing out of the auditorium, a young man approached me. He was dressed in college casual: a t-shirt and shorts. His skin was pale, his hair and beard were dark red and scraggly.
IOWA CITY–
At our events, most of the question and answer sessions are memorable, and it's always hard to distill the one or two moments that stand out. To give the flavor of the roadshow and the sort of dialogue it inspires, it's easier to find one or two key encounters and let them stand for the whole. In Iowa City, Craig received a penetrating question from a University of Iowa professor of philosophy about the consolation of faith as an argument for the reality of the divine, more precisely, on the difference between the reality of a divine presence and the need for that reality.
JON DEE GRAHAM–It's hard to know where to begin. First of all, we had around 140 people in the audience, a real mix of Christians, atheists, skeptics and spiritualists, befitting the town's glorious eclecticism. The room at the Alamo Drafthouse flickered like a giant rack of votive candles, lit by literal candles for diners who could order cheeseburgers while they watched us talk about cheeseburgers. Craig must have felt right at home. It was the cinema as church, par excellence. In his acoustic set, opening the roadhow, Jon Dee Graham delivered the haunting song "Amsterdam", about his love for a place that exemplifies historically and culturally exactly the conversation we're trying to have. Walking the streets of that city, I have always seen the early version of Brooklyn, where I spent seven years of my life, or Breukelen, as the Dutch founders named it.
KGB–In North Carolina, we held our events in churches and at a college. In New York City, we added a theater and a bar to the list of venues. Monday night, it was the legendary New York Theatre Workshop, which launched Rent and Quills, among other glories of the stage, and last night, I read at KGB Bar on a slate with the writers Janice Erlbaum and Neal Pollack, a real honor. Fueled by a complementary glass of Jameson on ice, standing before a packed house, I read excerpts from the first two chapters of Reasons To Believe.
LAKE FOREST CHURCH–To the members of Lake Forest Church, Huntersville, North Carolina: I should have expressed my thanks a week ago, shortly after my return. You allowed me to stand before your congregation and speak my mind, and though I didn't praise God or even acknowledge divinity, you heard me out. What I had to say was received graciously by most of you. Several people approached me after the service and thanked me. I can't tell you how much I appreciated the gesture.
MONTAGUE BOOK MILL–"I must add that I think the Montague meeting revealed the psychic motivation behind this fetishization of the religion/atheism-secularism discussion (not YOUR motivation, btw). The arrogance and illiteracy in that crowd was, to me, as disgraceful as palpable. The sheer and unworried thoughtlessness (Arendt's term) of the way they scoffed at the South, harrumphed at religiosity, conflated religion as fundamentalism, presumed that CD had lost all the arguments when he absolutely had not, and ADORED the false dichotomy (faith v. non-faith, etc.) placed before them…it was all so depressing and familiar."
NEW YORK CITY–Where was I when the world changed, if it changed? On the day after the stock market dropped 500 points, on the evening of its 400 point rebound, I meandered through downtown Manhattan, sampling so many of the things that I love about the great city which I had dreamed about as a child and read about in the pages of Marvel Comics, TV Guide and John Dos Passos, the place where I ultimately spent a decade of my life.
OBAMA–In September 2008, in the midst of the most momentous presidential race in modern American history, the people of the United States came under the spell of a powerful, near intoxicating illusion. For a brief political second, the fate of the country appeared to hang on the fortunes of four politicians. Those four, as if anyone needed to know, were Barack Obama, Joe Biden, John McCain and Sarah Palin. The theater that sustained this illusion , as chronicled by Mark Halperin and John Heilemann in their all-conquering bestseller Game Change: Obama and the Clintons, McCain and Palin, and the Race of a Lifetime, reached its fever pitch and arguably its turning point in the last week of that month. By October, two candidates would be headed inexorably for the White House, two for concession in a hotel lobby in Arizona.
PENIS–The Purple State experience surprised me last night. Every screening provokes a different conversation, and last night, with a number of science majors in the room, we suddenly began to hear serious questions and comments about the penis of Jesus. Go figure. Till now, no audience member had ever dared broach that subject. The conversation about genitalia in the movie never fails to get a laugh or rivet attention, but it feels perhaps too indecorous for polite conversation. On Wednesday night, in an event co-sponsored by Students for the Separation of Church and State and the Christian organization InterVarsity, no one held back.
QUARANTINE–Why write about movies at Purple State of Mind? Not that I need an excuse, but love of movies has been a shared bond in my friendship with Craig Detweiler for the past twenty five years. It's a building block of our own personal culture, you might say, so it always feels appropriate to make the flicks a staple of our ongoing conversation.
RHODE ISLAND–The question came from a woman a few rows back from the stage. We were sitting in the school gym at New Life Worship Center in Smithfield, Rhode Island, a suburb of Providence, and the subject of my talk was ostensibly why I rejected the Christian faith.
SAN FRANCISCO–At the risk of crossing the Purple State wall into Craig country, and getting shot by tower guards or cut by barded wire as I attempt the land between, I'm going to alert folks on this side of the divide to a fascinating encounter between the believer Detweiler himself and a skeptic. Our drama begins at the Red Vic movie theater in the Haight District of San Francisco, where we screened Purple State of Mind in late April. An old friend of mine, Kate Lauer, a lawyer with a brilliant mind, asked him a question that hasn't quite gone away.
TALLAHASSEE–Early in my visit to Tallahassee, Florida, our host Liz Joyner told me a story. We were driving past the white-columned courthouse where so much of the drama over the 2000 ballot recount unfolded, and she recalled how she passed that mad spectacle of popular democracy with her children, who were then small. Not so small that they couldn't stand a history lesson, Liz decided, and she took her kids for a closer look.
UNCLE TUPELO–Two weeks ago, when I read the sad news about the closing of Vibe magazine, I had a flashback. I couldn't help thinking about a much less widely reported shutdown just over a year ago, a very quiet but clear signal that all music industry publications were in trouble. I'm talking about the closing of No Depression, a magazine dedicated for more than a decade to American roots music.
VAMPIRES–Back in 1994, long before anyone had forged a connection between Mormons and vampires, Visible Ink Press published The Vampire Book: The Encyclopedia of the Undead, a seemingly inexhaustible supply of information about the children of the night. In that 800-page compendium, we encounter a blood feast of lore. There are entries on Bram Stoker, The Addams Family, anemia, the comic book character Baron Blood, Mario Bava, Blacula, Chinese, Bulgarian and Malaysian vampires, Tom Cruise, decapitation, Count Duckula, eucharistic wafers, necromancy, Ingrid Pitt, suicide, sunlight, Hammer films and Abraham Van Helsing. There are also a curious number of entries for local chapters of the Dark Shadows Society, including those to be found in Oklahoma and Milwaukee, but we'll get back to them in a minute.
WATCHMEN–Last weekend, Craig Detweiler and I had a rare shared experience. I was on the East Coast, he was on the West Coast, but we both went to the movies. Moreover, we both went to see the same movie. We both watched The Watchmen. That's where the shared part of the experience ends. He hated it. I enjoyed it.
X–Rick Rubin, hear me. A man is wandering the country, and he needs your help. His name is John Doe, and he's an American treasure. Last Saturday night, he came to our town and sang a set of songs off his terrific new solo album, featuring duets with Kathleen Edwards and Aimee Mann. He sang an amazing cover of Joni Mitchell's "A Case of You."
YUM–Last weekend, I received the sort of shock that only comes to people who place too high a priority on food. On Saturday, July 4, Independence Day, as my wife and son and in-laws watched a parade in downtown St. Michaels, Maryland, I went in search of a few good Methodist men and their exquisite chicken. Inexplicably, neither the men nor the chicken were anywhere to be found. Their usual spot on Maryland Route 33 was bare, nothing there but weeds rustling in a hot wind.
ZOMBIES–As the author of a novel about a vampire who drinks the blood of the living to communicate with the dead, I know a few things about horror. I've seen some dark nights and scary places. I've been to a graveyard in Transylvania and a haunted house in New Orleans. I encountered dread apparitions like Jodie the Pig in Amityville and the Chupacabra in south Texas. Worst of all, I had nightmares for years about George Romero's Dawn of the Dead.
But nothing could have prepared me for this. Just when you thought it was safe to go over the river and through the woods to grandmother's house!
Adios, Purple Amigos! Please feel free to roam the site and comment for as long as we stay at this address.
It's been fun.
RSS feed for comments on this post. TrackBack URL