2009-11-09 18:37:43
BERLIN WALL WEEK: THE ACCIDENT OF DISCORDANT ANNIVERSARIES
Filed under: Berlin, Cold War, Europe, Germany, Hungary, Poland, Romania, Russia, Stalin, Ukraine, Vladimir Putin
Posted by: John
Today, in Berlin, Germans remembered the 20th anniversary of the fall of the Berlin Wall. By extension, we all did.
We're not just remembering on such days, of course. We're fixing versions of the past into place. We're nailing down our official stories, making them less fluid and flexible, endowing them with meanings that may have nothing to do with the past, but which serve as explanations to ourselves of ourselves. We use the past to find our way in the present.
No matter what one believes about the reasons for the collapse of the so-called anti-Fascist protective barrier–and there is still a lot of debate–most everyone agrees it was a singular moment in world history. The ambiguity of the final outcome for East Germans doesn't erase the most miraculous part of the event—no blood was spilled.
As it happens, there are two other anniversaries on the same day, a  melancholy reminder of the history that preceded the Cold War.  November 9 passed for the 71st time since Kristallnacht, the 1938 pogrom known as the Night of Broken Glass, traditionally seen as the start of the most violent phase of the Holocaust.
That occurred on the anniversary of the failed attempt by Adolph Hitler to take over the German government in 1923. He ended up in jail as a result and wrote Mein Kampf. The Beer Hall Putsch, as it came to be known, was 86 years ago today.
This year, like every year, the local Jewish community gathered to recall Kristallnacht and pay tribute to some of the earliest victims of the Holocaust at synagogues and at the deportation memorial in Gruenewald. Rain or shine, they come together and light the candles and say the prayers.
In Berlin, thanks to the history of the 20th Century, no joy unmixed with pain.
2009-11-08 15:37:24
BERLIN WALL WEEK, OR WHAT THE 20TH ANNIVERSARY OF THE FALL CAN TEACH US ALL (PART ONE)
Filed under: Berlin, Charlie Wilson's War, Cold War, Europe, Georgia, Germany, History, Holocaust, Hungary, Poland, Romania, Russia, Stalin, Ukraine, Vladimir Putin, World War II
Posted by: John
Twenty years ago tonight, on November 8, 1989, no one knew that the entire world was about to change. No one guessed that, in less than a year, the countries of East Germany and West Germany would cease to exist, that in two more years, the Soviet Union and Czechoslavakia and Yugoslavia would all be gone, or that two dozen new countries would be born in their wake, some in a poof of text, others in fire and blood.
Sure, on November 8, 1989, it was clear that something was going to happen, but very few people on the planet earth seem to have guessed that it would be the fall of the Berlin Wall and the peaceful overthrow of one of the most repressive governments in the world, followed with seeming inexorability by the end of Communism in Europe.
And so we receive the first clear lesson of the fall of the Berlin Wall in 1989: No one really knows anything about what happens next.
No matter what anyone says now, no one saw the fall of the Berlin Wall coming, not Helmut Kohl, not Mikhail Gorbachev or Ronald Reagan, not the most experienced journalists in the world. Twenty years ago, I was a clerk in the Washington bureau of The New York Times, and I can remember clearly the procession of seasoned veterans who came forward to look at the television set that hung over the copy desk during those days of mid November.That was a few years before the Internet, and while reporters could check the wire services on their computer screens for the latest news, they couldn't see images. As they approached the screen, on November 10 or 11 or 12, their lips parted, and their eyes opened wide, wonderment on their faces as if they were about to receive a kiss.
And they were—the kiss of blasphemous and unruly history!
In an age where everything seems predigested, where experts on television mediate every scrap of information, telling us what to think, how to think about it, even when and why to think about it, human history remains as gloriously elusive and unmanageable as Mother Earth. Of course, unexpected surprises can be terrible. People were glued to their sets with a different sort of wonder on September 11, 2001, a horrified awe at the power of disaster, cruelty and fanaticism.
But on November 9, 1989, joy and relief carried the day. Santa Claus had come to town.
The day before was no Christmas Eve. For most people in the world, it dawned and ended like any other. Even in East and West Berlin, plenty of people went to bed on November 8 as if nothing could conceivably alter their work routines or their sense of place or their prospects for the future. Yet within the year, most of the inhabitants of both those cities would lose their countries. Those in the East would lose their passports, their currencies and millions of jobs.
Which brings us to the corollary to Lesson One: The day before the world changes forever is always a day like any other.
TOMORROW: The Awkwardness of Discordant Anniversaries.
2009-11-02 10:12:22
BERLIN WALL VANITY PROJECT: HELMUT KOHL SAYS "I TOLD YOU SO!" TO POSSIBLY YAWNING WORLD
Filed under: Berlin, England, Europe, Germany, Hungary, Russia
Posted by: John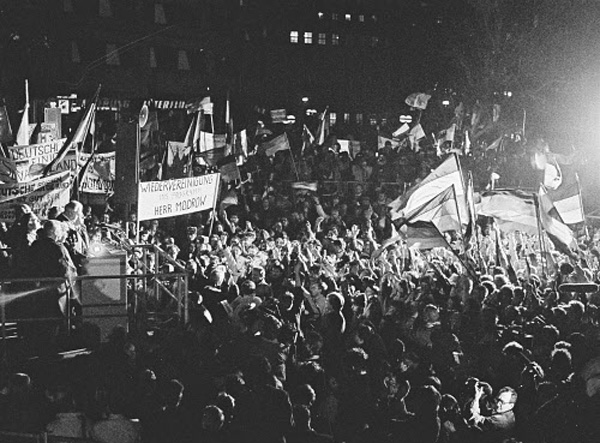 It must be a rare high point in the life of a retired leader to be able to look back on an unvarnished victory and say to the world that once doubted and scorned, "I told you so."
This is what former German Chancellor Helmut Kohl does in a lengthy essay today in the Frankfurter Allgemeine Zeitung, and who can blame him? In roughly 2000 words, he claims that God, Bismarck and Konrad Adenauer led him to understand what he must do in November 1989 when the Berlin Wall fell.
It's a weirdly small an self-serving argument for such an important occasion. Reading it, I couldn't help thinking that Kohl must have stewed in resentment for twenty years, waiting for this very moment, staying alive, perhaps, just to be able to tell the world that it was really him, and not Reagan, Gorbachev or Willy Brandt, who ultimately healed the European division.
He's right about some things. The Wall's fall was a sort of "wonder", one of the marvelous, unforeseen moments in recent history. He's also right to point out that this wonder wasn't greeted with joy in a lot of the capitals of Europe. In fact, there was a lot of fear that a unified Germany would be nationalist and destabilize Europe.
Only Spain, Kohl says, supported German Unity from the start. Margaret Thatcher and Francois Mitterand both had to be convinced. Thatcher openly said she'd prefer two Germanies, and a fair number of East Germans felt the same way, but it was Kohl's genius to maneuver quickly past the objections without raising the specter of the past. In a December speech in Dresden, widely seen as the moment when East German public opinion surged in favor of Unification, Kohl writes that he was conscious that every word he said would be sifted for traces of resurgent German nationalism, and he suppressed his own feelings for the sake of the common future.
I believe him. I'm not sure how well he suppressed those feelings, but he passed the international test well enough. Even Thatcher would give up her objections, though within a year neither West Germans nor East Germans would seem particularly happy with the result.
The East German economy collapsed once the East German currency, the Ostmark gave way to the West German Mark, the most respected and feared currency in Europe, and the former West Germany economy began to feel a strain from which it has never quite recovered. Unemployment remains perennially high in parts of the former East, in large part because the speed of the currency exchange destroyed the industrial base virtually over night in paces like Mecklenburg-Vorpommern and Saxony Anhalt.
The problem with Kohl's interpretation is not the facts. It's his tendentious interpretation of them.  Like a lot of American conservatives, Kohl is trying to make the case that his opposite numbers in the Social Democrat party were completely wrong about everything, but especially in their emphasis on recognition of the East German state. He can't even bring himself to mention his predecessor Willy Brandt, whose Ostpolitik surely opened the door to what would become Gorbachev's perestroika and allowed future German leaders an opening to the East that hadn't existed before.
Interestingly, he also leaves out Ronald Reagan, which would surely outrage all those who give the Gipper sole credit for bringing down the Wall. Those famous lines—"Mr. Gorbachev, Tear down this wall!"–are completely missing from Kohl's account. Instead, he credits George W. Bush with giving the decisive speech in May 1989, an oration of which no one outside history departments recalls a word.
Kohl may be right about the relative import of those two speeches, but leaving Reagan out all together feels downright odd. You don't have to buy the neoconservative argument about his role to feel a certain awkward dance around the historical record. As a result, Kohl's motive feels suspect. Could it be a simple matter of ego? Reagan would overshadow Kohl, one thinks, so Kohl leaves Reagan out. Bush serves a dual purpose of being a more manageable American, and therefore a better footlight. Believe me, it's that kind of an essay.
Kohl claims far too much credit, for instance,for West Germany's first chancellor Konrad Adenauer, and therefore for himself. In saying that it was Adenauer who saw all along that East and West Germany would one day be reunited and therefore refused to go down the path of neutrality urged by Stalin after World War II, Kohl makes it sound as if those early Cold War decisions were all about Unification. Nothing could be further from the truth. History records that Adenauer resisted neutrality, but he wasn't necessarily being a German patriot.
Isn't it rather the case that Adenauer saw the defense umbrella offered by the western  Allies as essential to the security of his small and vulnerable new country. Above all else, siding with the Americans placed him firmly out of the orbit of the Russians, whom he justifiably mistrusted. Unity was a happy by-product of a much more immediate need to protect what was left of the former German Reich from Stalin.
By the time the Wall fell, that need was long gone, but that fact doesn't give Kohl the right to rewrite the past to suit his own ends.
All politicians do, of course. Historians are constantly sorting through official versions to find the real truth, and this is no different. What's interesting is the timing.
Why exactly did this leader who should be perfectly confident in his role in history feel the need to go back rehash arguments that sound increasingly remote? Is it just possible that we are seeing not the last gasp of a dispute, but the first skirmish in a coming battle over how we interpret this great and world-transforming event?
I'd put money on the latter.